MANUL OF MONGOLIA PHOTO TOUR
photograph the unique Pallas's cat
Manul of Mongolia Photo Tour
Photograph the unique Pallas's cat
---
---
Spend six full days photographing the small, unique manul found in the eastern steppes of Mongolia. This tour is timed to photograph manul kittens as they emerge from their dens, allowing for unique opportunities to see play behavior as well as food deliveries by their mom. You will have the unique chance to spend hours with these curious and cute looking felines.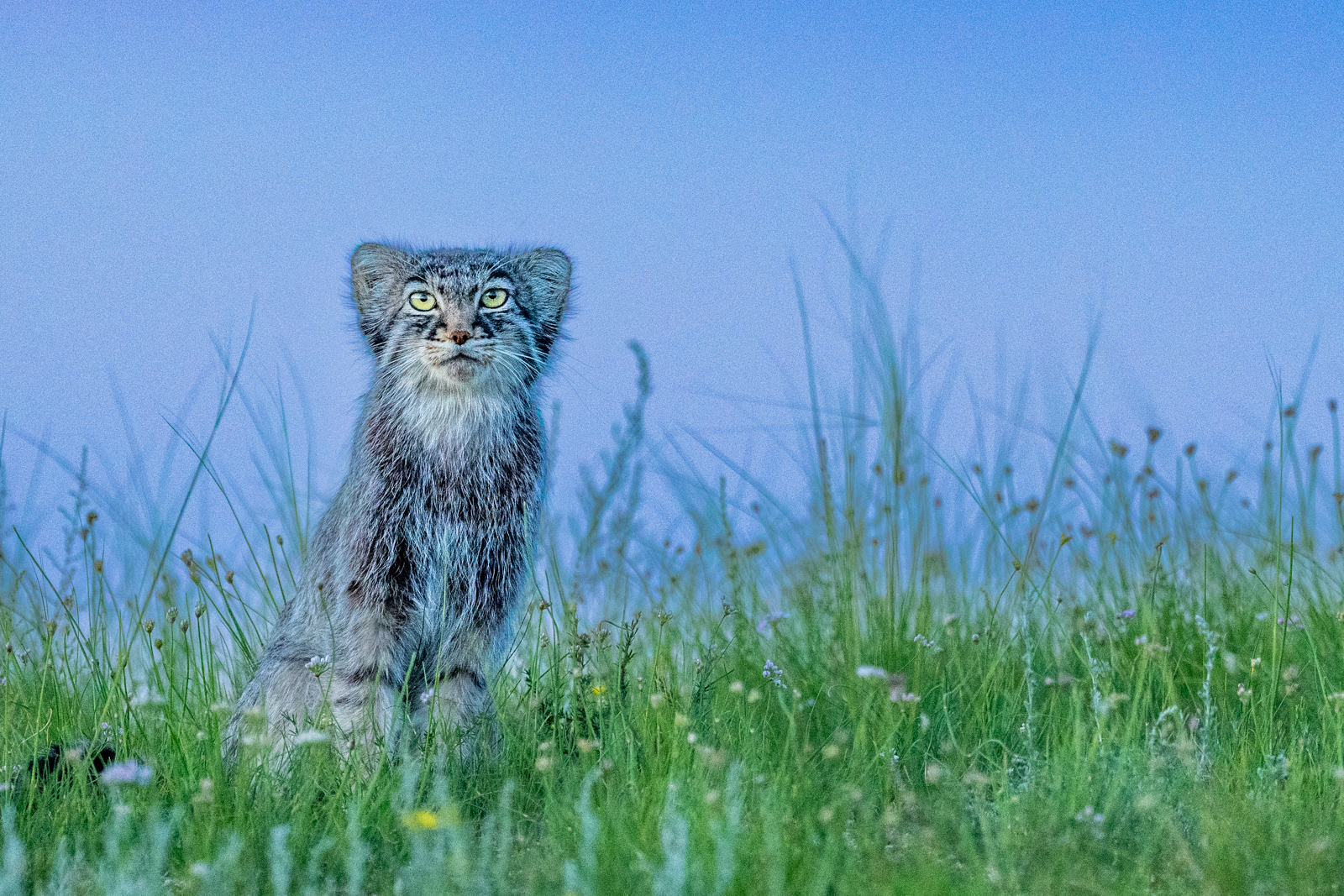 PHOTOGRAPH WILD MANUL IN MONGOLIA
SEE MANUL KITTENS AT THEIR DEN
SEE CORSAC FOXES ON THE MONGOLIAN STEPPE
EXPLORE THE PREDATORY BIRDS, LIKE STEPPE EAGLES
STAY IN A TRADITIONAL MONGOLIAN GER CAMP
Why we love this Manul of Mongolia photo tour
---
---
Our manul of Mongolia photo tour is an exclusive tour offering to find and photograph manul, also known as Pallas's cat, in the wild. We have designed the tour to overlap with the time at which manul kittens first start leaving their den, providing us the unique opportunity to photograph these cute fur balls as they start exploring their world.
We travel to the eastern part of Mongolia, where the vast steppes evoke a sense of endless freedom. Large herds of domestic horses run freely through these grasslands. Corsac foxes dig their obscure dens into hillsides. Steppe eagles and Eurasian Eagle-Owls keep an every watchful eye out for rodent prey.
We work directly with manul biologists to photograph the cats ethically, in a way that ensures the well-being of the cats, while providing you ample opportunities for great pictures. In all of our past trips we have had the opportunity to see multiple mother's and their kittens, giving us the opportunity to see different personalities amongst the cats.
Our accomodations for this manul of Mongolia photo tour are the most unique within all of our tours. We have the privilege of staying at a traditional, nomadic ger (yurt) camp, in the middle of the vast steppes. The rooms are simple, but very comfortable, the food is delicious, and our hosts are extremely friendly.
---
Manul of Mongolia photo tour testimonials
---
---
"The Manul trip was spectacular. We spent hours at the den sites every afternoon, watching kittens play and run to greet their mothers whenever they returned from a hunt. We even came to recognize individual kittens and see differences in their personalities. I never dreamed I'd be able to watch and photograph wild cat kittens like this, let alone those of a species as elusive as the Manul! The cat sightings are worth the whole trip, but it was also excellent in so many other ways. I loved staying in a ger on the beautiful endless green steppe, which is unlike any place I've experienced. We had great encounters with other wildlife like Corsac Foxes, Steppe Eagles, Eurasian Eagle-owls, and Mongolian Gazelle. I can't recommend this trip highly enough!"
- Carrie Smith
---