BIG CATS OF AFRICA PHOTO TOUR
Kalahari Desert & Okavango Delta
Big Cats of Africa Photo Tour
The big cats of the desert and the delta
---
---
Our Big Cats of Africa Photo Tour will take you to two of Botswana's most productive wildlife areas. We will enjoy the Kalahari Desert when it is lush and full of predators, including leopards, one of the highest densities of cheetahs, and its famous black-maned lions. From there we will fly by charter to the Okavango Delta where we look for those same big cats in the famous wildlife rich floodplain.
SEE THE BLACK-MANED LIONS OF THE KALAHARI DESERT
PHOTOGRAPH LEOPARDS, LIONS, AND CHEETAH IN THE OKAVANGO DELTA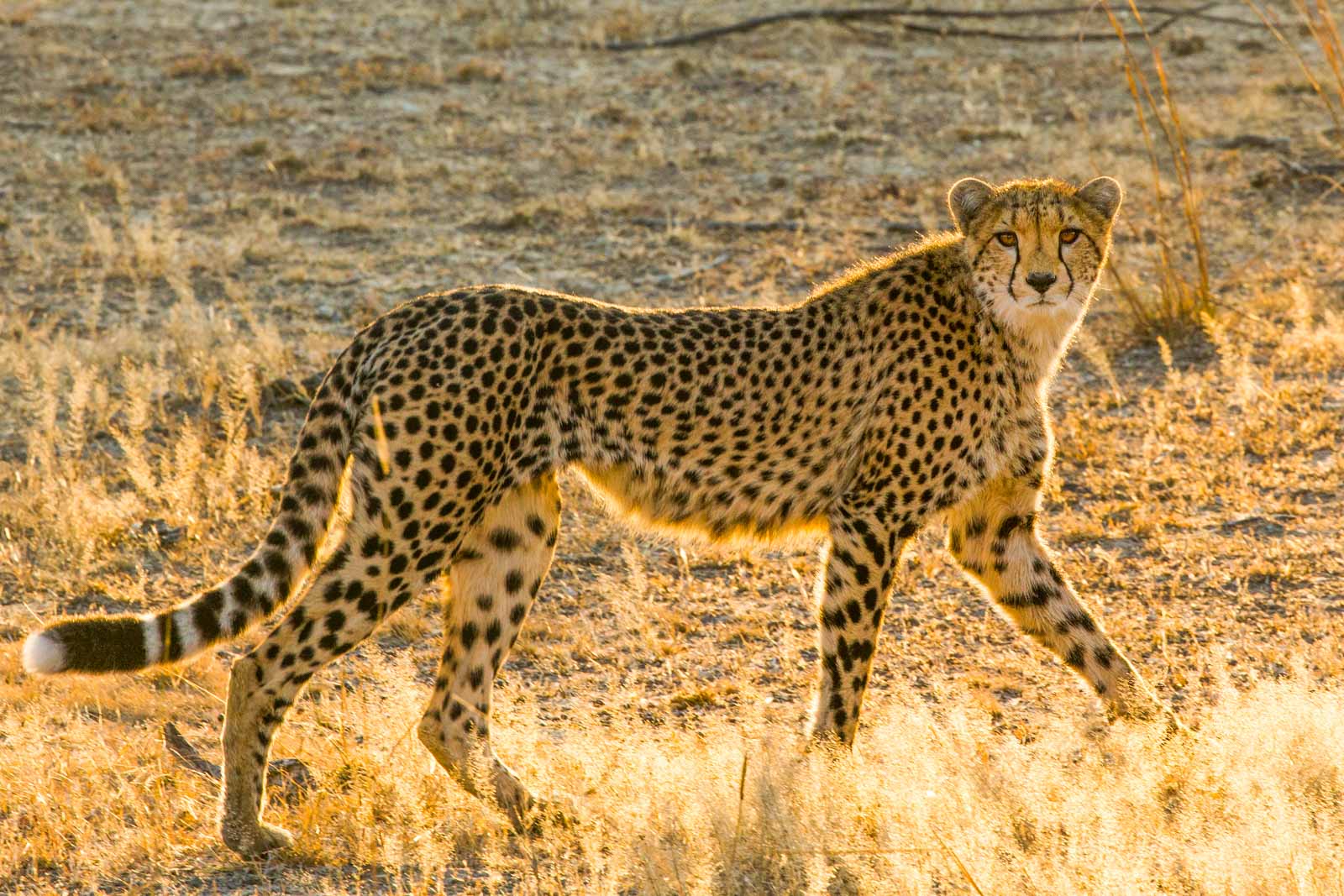 ENJOY CHEETAH IN THEIR HIGHEST DENSITY SOUTH AFRICAN LOCATION
SEE OTHER ANIMALS OF BOTSWANA, LIKE ELEPHANTS AND WILD DOGS
STAY AT BEAUTIFULLY LUXURIOUS WILDERNESS SAFARI CAMPS
LEARN HOW BIG CATS AND PEOPLE CO-EXIST
Why we love this Big Cats of Africa safari
---
---
The Big Cats of Africa Photo Tour is a dream come true for any wild cat enthusiast who wants to get up close and personal with lions, cheetah, and leopard. Our small group ensures intimate, meaningful encounters with these incredible felines. Not only will you have a chance to see the cats from a safari vehicle, but also from a boat, on foot, and even a helicopter is available for hire. We have picked two of the best wildlife locations in Africa for this tour.
The Central Kalahari Game Reserve (CKGR) is untamed wilderness and supports one of the highest cheetah densities in all of Africa. Other desert animals including spotted and brown hyena, aardwolf, oryx, ostrich and bat-eared fox can be found in higher numbers here. During our tour, the black-maned lions move into the area due to the rains which make the desert more productive bringing in the plains game.
The Okavango Delta is world famous for its great wildlife viewing and we will be staying at two of its top locations, Chitabe Lebida, and Little Tubu. We hand-select our guides to make sure that you will be in the best position to make unique photographs of the delta's big cats, elephants, hippos, and amazing bird life. Since lots of ungulates have their young during the time of our tour, finding the big cats is easier.
To top it all off, you won't just be snapping pictures of incredible wildlife and locations on your Big Cats of Africa Photo Tour, but you will also learn about how these felines adapt to their environment and how they co-exist with people. We partner with both Wilderness Safaris as well as the wild cat organization WildCRU to give you scientific insight into the ecology of the predators of the area.
Big Cats of Africa photo tour testimonials
---
"I can say with certainty that in over 30 years of going on safari I had my most exciting predator interaction at Chitabe - wild dog, lion, leopard and hyena in one go."
---